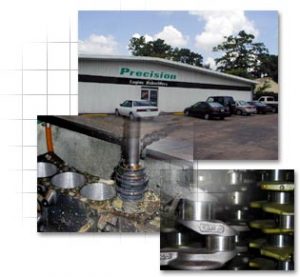 Here at Precision Engine, we offer top name brands including Sealed Powerlifters, Melling oils pumps, Dynagear timing components, McCord gaskets, King Engine bearings, Engine Tech pistons, Sealed Power piston rings, Silvolite and Badger pistons. We have all these precision quality products and much much more! Read on to learn more about us.
ICT Engines has been serving the automotive aftermarket since 1988 with the belief that if you provide the customer with the finest quality engine, excellent service, and technical support at a fair price, he will beat a path to our door. We're proud to say this is true.
Every rebuilt engine and the remanufactured engines we build begin with a thorough cleaning, inspection, and machining of all remanufacturable castings. All cast iron components are magnaflux to guarantee integrity. Engine blocks are precision bored, decked and honed to the specified RMS. Crankshafts are ground and polished to an 8-12 RMS finish. Valve seats are precision cut to three angles, and heads are resurfaced and vacuum tested. The following components are replaced as part of the manufacturing process:
New Pistons
New Rings
New Timing Components
New Freeze Plugs
New Installer Gasket Set
New Main Bearings
New Rod Bearings
New Cam Bearings
New or Reground Cam Shaft
New Push Rods
New Hydraulic Lifters
New Oil Pump
Remachined Block, Crank Shaft, Connecting Rods and Cylinder Heads
Nothing is left to chance. Our quality machining process would be wasted if we didn't also use the finest engine parts available. Only parts from proven quality brands such as Fel-Pro, Sealed Power, Federal Mogul, Dynagear, Clevite, Top Line and Melling go into our engines.
If you are looking for performance parts, we offer distinguished brands such as Speed-Pro, Lunati, TRW, Melling Performance and Keith Black.